Hotel Accommodations in Central Pamplona
"I recommend the Bucket List Events group for the Running of the Bulls. They had the whole experience down to a science. The hotel they used is probably one of the best during the fiesta. Not too loud and crazy from all the party goers." – Vlad, 2016 Client

"The hotel in Pamplona was very comfortable and the away from the craziness going on in the Plaza." – Kristi Wright, 2018 Client

"We were thankful to have the hotel in Pamplona away from the party scene." – Joyce Yates, 2019 Client

"The hotel was very nice and within walking distance to the festival without being loud." – Ashley Estrada, 2019 Client
Bucket List travelers to the Running of the Bulls have access to exclusive bookings in the four-star Hotel AC Cuidad. Choosing this hotel was fine-tuned process aided by client feedback and research by our experienced guides. With that in mind, we believe we have partnered with a property that offers the best of both worlds.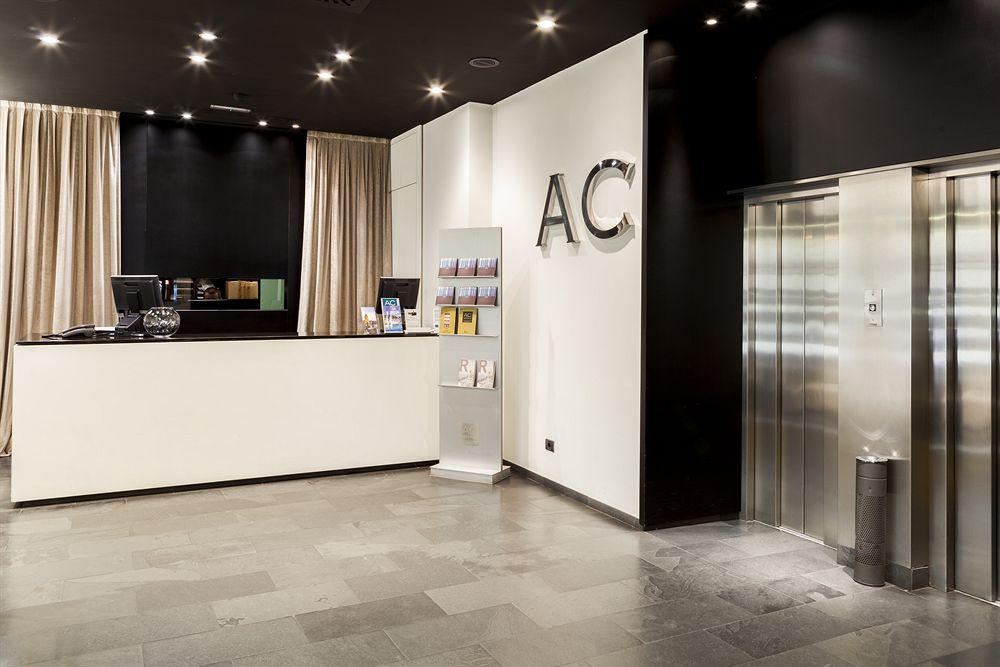 We have found that hotels located within the party areas are often congested and sleep is hard to find, not to mention significantly more expensive. The AC Cuidad is a Marriott property located less than a mile away from the heart of the festivities, but far enough away that uninterrupted slumber is obtainable.
The hotel was very nice and we were situated not too close to the noise, but not too far from the festival." – Shari S. Client

"Bucket List Events put us in the BEST hotel. The breakfast and house keeping were amazing, and it is the same hotel where some of the matadors stayed" – Michaela Fields, 2019 Client
The hotel features a large lobby complete with a bar and public computers, as well as complimentary wifi. There is also a gym on site for those that need that last-second lift to take on the bulls. With this stylish hotel as homebase, the Clínica Universitaria of Pamplona, university campus, exhibition center, and Baluarte are all nearby.
The hotel and area we were in was very nice, walking distance from everything and great amenities." – Gwyn L. 2016 Client
Browse the map below to get a feel for where the hotel is located and everything that is nearby!
"

We had a 15 person trip to Oktoberfest this September and the whole trip, end to end was brilliant. All of our party was more than pleased with all aspects - Bucket List Events exceeded our expectations and we are thankful for such a fun and smooth trip!!

"
"

"Me and my friend recently booked a trip with Toby and his crew for the running of the bulls and needless to say it was fantastic. Everyone worked so hard to make the trip as easy and fun as possible.  They completely took the guess work out of the whole trip. One of the best trips I ever took and I will be booking my next event with them for sure."

"
"

Traveled with my parents, wife, and two oldest boys this year and Bucket List Events did not disappoint. First class service! The Hospitality area and base camp were fantastic. Shuttle to and from the course made it stress free. Wednesday practice round allowed my sons to high five the vast majority of current players and legends of the game. The North Augusta home that was secured for us was nothing short of amazing. I would not hesitate to use Bucket List again and quite certain my family will on other future events.

"
"

Toby & co. put together an incredible Pamplona experience for a large group of us. Can't recommend them enough.

"
"

The team at Bucket List Events saved my bacon when my son and I wanted to go to the 2018 Champions League Final in Kiev. The logistics of arranging the tickets, accommodation and ground transport for such an event can be harrowing if 'going it alone', to say the least (we tried!). When we found out about Bucket List Events they made it entirely stress-free. The whole package - top-notch seats at the stadium, accommodation in the perfect location, airport transfers and guided tour of the city was brilliant.

"
"

Our Masters experience was wonderful. Brian and his staff were great and the accommodations superb. A true Bucket List event!

"
"

Bucket List Team - We thoroughly enjoyed our trip and getting to know you guys. My husband was able to accomplish one of this dreams. We look forward to another Bucket List trip with you guys in the future!

"
"

G'day from Sydney! - Bucket List Events looked after my family for Comic-Con San Diego last year and it was fantastic - many thanks!

"
"

Thank you, Bucket List Events. Y'all were awesome and over the top, we can't thank you enough!

"
"

Loved our Oktoberfest experience with Bucket List events! Our small and large tent reservations were perfect and watching the parade from our hotel window was icing on the cake. Toby and team were excellent hosts - insuring our Oktoberfest time was a ton of fun?

"